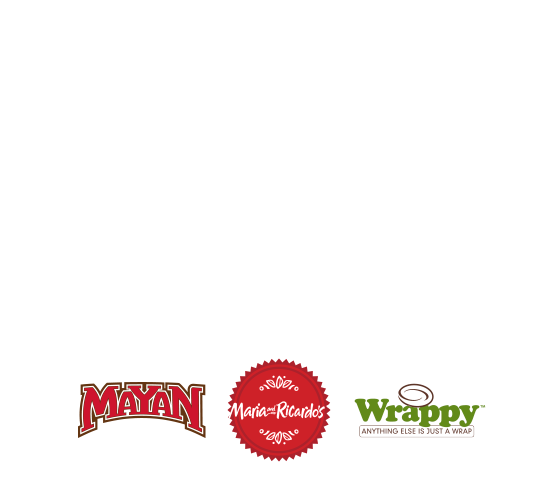 DELICIOUS AND WHOLESOME MEXICAN TORTILLAS MADE WITH MUCHO GOODNESS!
Maria and Ricardo's is the gold standard of tortilla brands. We bake these tortillas with real ingredients, using the best, most natural, non-GMO / organic ingredients whenever possible. These tortillas are free from artificial colors, flavors and preservatives. They are a perfect blend of authenticity, health and excitement. Explore our family of products!
SOFT & DELICIOUS TORTILLAS BAKED FROM AUTHENTIC MAYAN TRADITION
Mayan Farm recipes maintain its authentic Mayan spirit while still meeting the most stringent quality standards across its wheat, corn and specialty varieties. They are all baked to offer a superior experience and a practical way to enjoy Mexican cuisine and more!
FOODSERVICE TORTILLAS AND WRAPS WITH A WIDE VERSATILITY
Wrappy Tortillas and Wraps are Foodservice focused and with the professional kitchen in mind. These tender and pliable wraps can hold fillings without cracking or breaking. Great for hot and cold applications while versatile across a wide array of handheld sandwich applications.
YOUR ONE-STOP-SHOP FOR YOUR TORTILLA & WRAP NEEDS:
Harbar is a premium tortilla manufacturer with emphasis on quality, service and innovation. Harbar's high quality tortillas are available for wholesale to a wide variety of segments such as, but not limited to:
Retail Tortillas: Harbar is a key tortilla supplier to retailers in the natural, grocery and e-commerce segments.
Food Service Tortillas: Harbar has a deep portfolio of food service tortillas across the whole spectrum of nutritional attributes and applications.
Private Label Tortillas: Harbar is a selective participant in the private label segment patterning with key industry participants to grow together the tortilla category. Harbar also has tortilla co-packing capabilities for other brands.
All our tortillas are made the "Harbar Way" with a distinct focus on quality ingredients and on maximizing our customers' experience. Partner with Harbar as your tortilla supplier and benefit from more than 30 years of track record in this growing industry.